The best part about LA is not just the Dodgers or Hollywood factor. Here in the city of stars, our greatest asset is the proximity to everything else. Not to sound geographical (because thats not everyones best subject) but the stretch from sea to ski is shorter than a CVS receipt. Why not make a trip of it with our list of weekend trips perfect for any Angeleno! Follow the yellow brick road down our selection of day-trip-weekend-er spots and DVR GOT for later!
A Quick Car Ride
PALM SPRINGS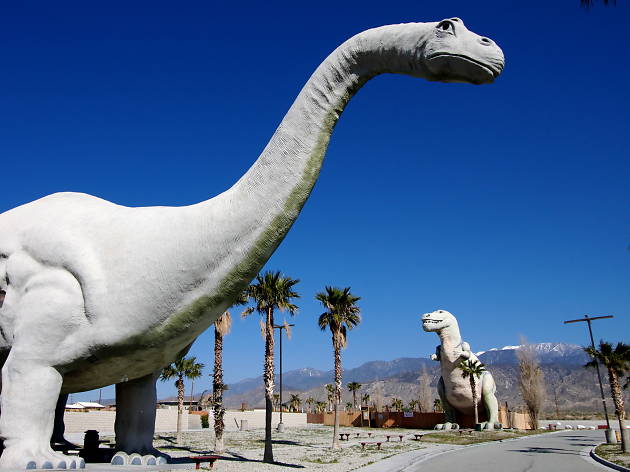 Miles from L.A.: ~105
Suggested round-trip time: 2 days min.
A quick and easy trip from L.A., Palm Springs is definitely doable over a weekend. Head east past miles of wind farms, where turbines cast formidable shadows and make an otherwise monotone landscape come alive. Look out for prehistoric creatures on the side of the road; the 50-foot Cabazon Dinosaurs (a Brontosaurus and a T. Rex, to be exact) are a popular roadside attraction. You can check out the gift shop (in the bront's belly), but to climb to the top of the T. Rex and sit in his mouth (a la Peewee during his big adventure), you'll have to fork over $13 and weave your way through a fascinating, if factually inaccurate dino park (worth it). When you arrive in Palm Springs, pick up a map of modernist buildings at the Albert Frey-designed Palm Springs Visitors Center for a self-guided architecture tour of the town.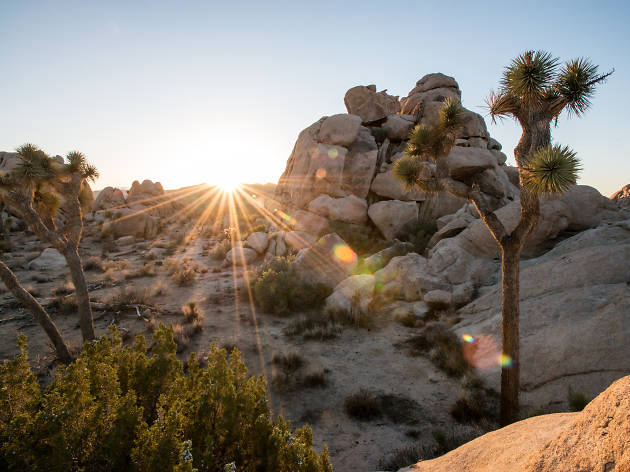 Photograph: Courtesy Joshua Tree National Park
Miles from L.A.: ~130 
Suggested round-trip time: 2–3 days min. 
Joshua Tree is one of the most magical places in California (and the country, we think). The national park's varied and alien landscapes—due mostly to gnarled, ancient Joshua Trees and giant boulders strewn willy nilly—make for impressive scenery during leisurely drives. The stargazing is choice here, and wild coyotes may howl you to sleep if you plan an overnight camping trip. Stop at Pappy & Harriet's for lunch on the way, and stick around for live music and a ghost-town stroll. Pick up a new houseplant at the Cactus Mart, or visit the Integratron for a new-age sound bath and a shady hammock nap. The town of Joshua Tree itself also offers some fun stops, such as the World Famous Crochet Museum, filled with the kind of quirky public art that only exists in tiny, warm-weather communities.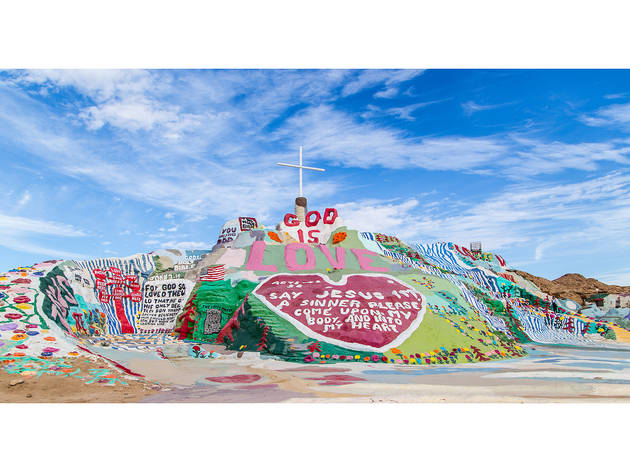 Photograph: Joshua Thaisen
Miles from L.A.: ~165
Suggested round trip time: 2 days
Driving south down a desolate stretch of the 111, you'd never guess that the lake was a popular vacation spot in the 1950s, with resorts dotting its eastern shore. But increasing salinity and pollution due to agricultural runoff have turned what was once a luxury retreat into a destination appealing only to those with an affinity for the forgotten and decaying. Explore abandoned structures along the shoreline as sun-bleached fish bones crunch underfoot. When you get hungry, the Ski Inn is your best option—and one of the only remaining establishments in the area. Make sure to visit late local Leonard Knight's gigantic folk art sculpture, Salvation Mountain, a rainbow-hued hill emblazoned with the words "God is Love." If this type of art is up your alley, check out Slab City, an unincorporated desert community and home to East Jesus, an inhabitable experimental art installation showcasing all manner of found-object sculpture and art cars.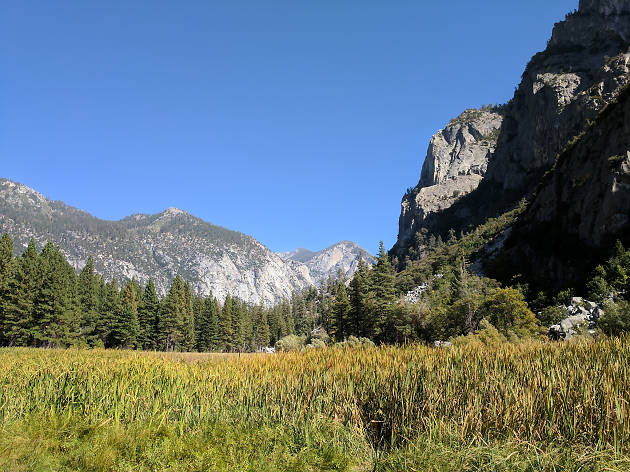 Photograph: Michael Juliano
Sequoia and Kings Canyon National Parks
Miles from L.A.: ~235 
Suggested round trip time: 3 days min. 
If you're a tree lover, you must go see the giant redwoods of Sequoia and Kings Canyon National Parks. Driving through and under such gentle giants is an experience that can only be had on the way to and within these parks. Sequoia is slightly more drive-and-look friendly, with cool attractions like the General Sherman Tree, the tallest in the world; Tunnel Log, a fallen, hollowed out Sequoia that you can drive your car through; and Tharp's log, a home built in a fallen tree. Meanwhile, the winding roads and backcountry trails in Kings Canyon are on every hiker's bucket list. Just make sure to check conditions before you go: Some roads close after the summer season, and there's always a risk of wildfires in the area.
Planes and Automobiles
Photograph: Courtesy Tim Trad
Miles from L.A.: ~270 
Suggested round trip time: 3 days min. 
Our advice? Never fly to Vegas; the drive is too much fun to miss. First, check out Calico Ghost Town. It's not the most authentic of ghost towns, but it's a worthwhile detour for a bit of wild west history. For something a little stranger, look out for exit 23 on I-15, which will lead you to the ruins of the former Zzyzx Mineral Springs and Health Spa. Created by criminal, quack radio evangelist Curtis Howe Springer back in 1944, the Resort duped visitors into thinking they were soaking in healing natural hot springs, when in reality all the pools were boiler-heated. (Eventually the FBI shut this little operation down.) Get even weirder seven miles down the road in Baker with an alien sighting at Alien Jerky, a kitschy, alien-themed sundries shop selling flavored jerky, olives, nuts and candy. If you're hungry for something more substantial, don't miss the Mad Greek, a surprisingly delicious Greek fast food joint. In fact you can't miss it, due to the life size plaster statues and Parthenon patio. Get a gyros plate to fuel the rest of your journey to Sin City.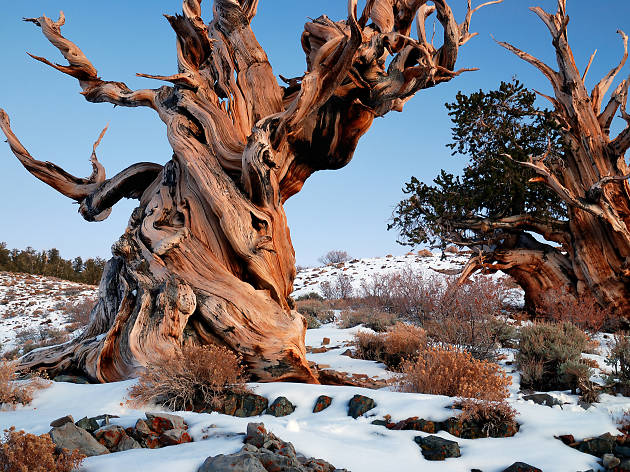 By Rick Goldwaser from Flagstaff
Miles from L.A.: ~310
Suggested round trip time: 3 days min.
Take the scenic Route 395 and you'll have a view of the snow-capped Sierra Nevada mountain range for most of this gorgeous drive. When you hit Big Pine, stop for a bite at Copper Top BBQ, a bright red smoke shack that serves piping-hot ribs and tri-tips. You may end up befriending some hungry alpine climbers headed to or from Mount Whitney (the highest point in the contiguous U.S. at 14,505 feet!). Take a small detour east to the Ancient Bristlecone Pine Forest, home to the oldest trees in the world; some of these beauties have been around for more than 4,000 years. Farther north, stop in Bishop for some fresh-baked loaves or pastries at Erick Schat's Bakery. Drive up the road to Mahogany Smoked Meats and choose some road snacks from a huge selection of gourmet beef, turkey, elk, buffalo, boar and fish jerkies. Though there's no formal address, if you're determined (or willing to ask a local), you can find a group of easily-accessible hot springs right off the 395, just south of Mammoth Yosemite airport.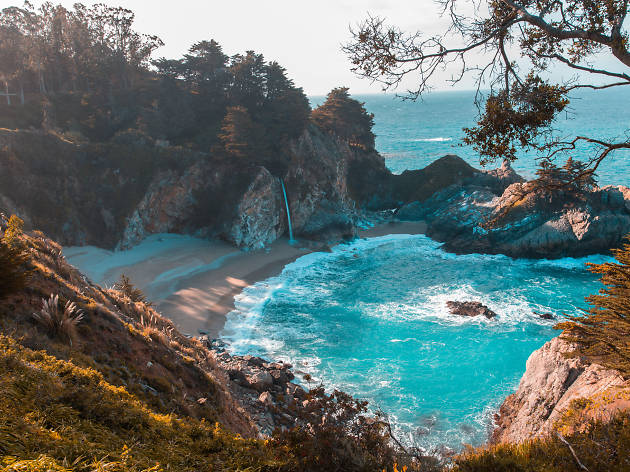 Photograph: Courtesy Derek Thomson
Miles from L.A.: ~350
Suggested round trip time: 3 days min.
Arguably one of the most iconic stretches of coastline in the world, the Big Sur area is a road tripper's paradise. It's where redwood-covered mountainsides plunge into the surging ocean, with a narrow road carved into the cliffside, offering up incredible views and a bit of vertigo. One of the best ways to see Big Sur is simply by driving along Highway 1, parking your car wherever it looks cool (read: basically everywhere), and following a probably unmarked trail—though be careful of poison oak—down in the direction of the ocean. For more mappable destinations, check out the Esalen Institute (their hot spring baths are open to the public from 1–3am), or the touristy-but-still-totally-worth-it McWay Falls and Pfeiffer Beach for even more stunning vistas. Dying to get off the beaten path? Head up Nacimiento Road to the remote valley setting of  Mission San Antonio de Padua—one spot in Big Sur that you just might have to yourself.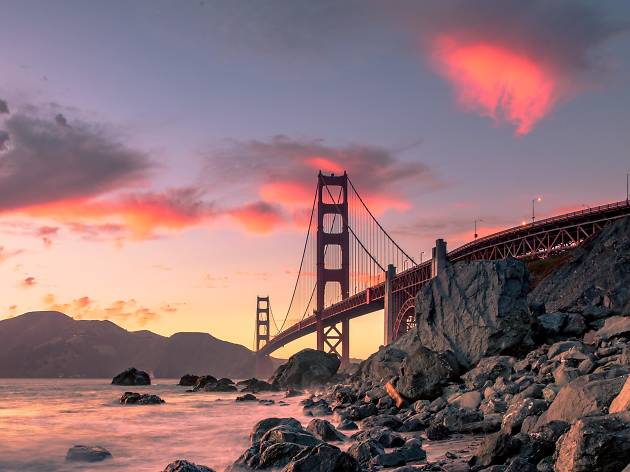 Photograph: Courtesy Oliver Plattner
Miles from L.A.: ~390 
Suggested round trip time: 3-4 days min. 
There's more than one way to get up the Bay; you can choose the scenic route up the Pacific Coast Highway, or the down-and-dirty quick shot up the 5. (Yes, we mean dirty; miles of cattle farms give off a terrible stench and miles of citrus farms, while more pleasing to the nose, will leave your car covered in bug guts.) For a leisurely road trip, we suggest Highway 1. Stop at the Madonna Inn for a giant slice of cake or a peek into one of the themed guest rooms. If you have more time, Hearst Castle is a must-see; a sprawling estate with 56 bedrooms, multiple pools, 127 acres of gardens and even grazing zebras. As you continue north, look out for the signs (and smells) of Gilroy, the garlic capital of the world.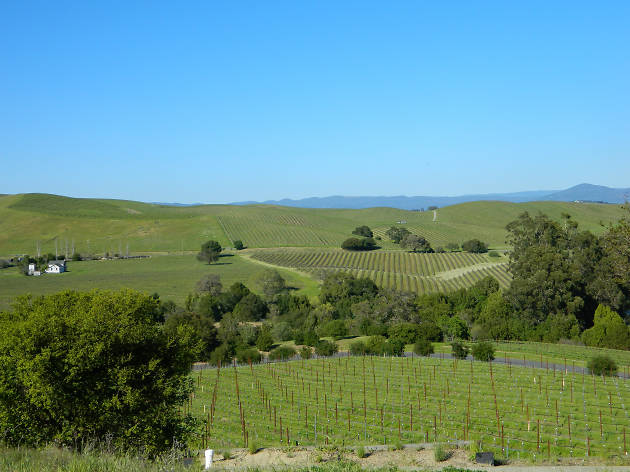 Photograph: Courtesy CC/Flickr/Alaina McDavid
Miles from L.A.: ~415 
Suggested round trip time: 5 days min. 
There's so much to explore in wine country. Enjoy a picturesque drive up the coast, then swing inland for miles and miles of bucolic, verdant, rolling hills dotted with wineries and farms. Once you get close, you'll have to pick a direction: west for Sonoma, east for Napa. You can't go wrong, but it isn't easy to drive back and forth between the two, so if you don't have time for both. Choose between spread out, rustic Sonoma or more condensed and touristy Napa. The main event here, of course, is wineries—just be sure to drive safely, or turn the wheel over to Lyft for the day.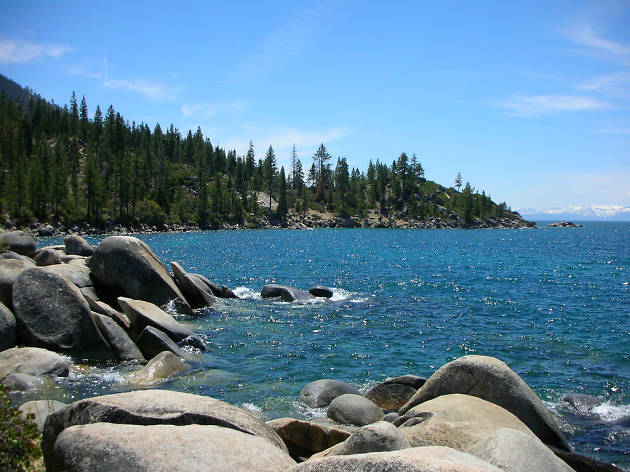 Photograph: Courtesy CC/Flickr/noshadows
Miles from L.A.: ~465 
Suggested round trip time: 4-5 days min. 
The scenic Route 395 is one of the loveliest roads in California. Wind your way along the Eastern Sierras, stopping in the small towns of Lone Pine, Big Pine and Bishop for quaint strolls and delicious detours (try Copper Top BBQ in Big Pine and the famous Schat's Bakery in Bishop). The area is perfect for exploration by car; take any westward road to head up into the mountains, where you'll find pine forests, crystal clear snowmelt lakes and tiny towns. If you have time, a stop in Yosemite National Park is a must, as is a hike or stroll (or ski day) in Mammoth. Another worthwhile (if far) detour is Bodie, one of the most legitimate and well-preserved ghost towns in America.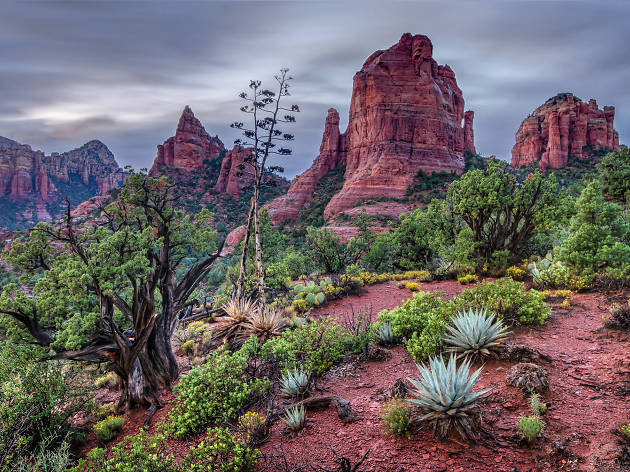 Photograph: Courtesy CC/Flickr/Michael Wilson
Miles from L.A.: ~470 
Suggested round trip time: 5 days min. 
The change of scenery you'll see on this drive is worth the trip alone: from vast stretches of desert into shrub-covered hills, followed by dense forest and—depending on the time of year—even snow.  Each has distinct offerings; from a hip, small-town feel in Flagstaff with craft beer, live music and friendly folks to stunning views and an overwhelming number of health and wellness spas in sleepy Sedona (treat yo' self).
Photograph: Courtesy Tom Gainor
Zion and Bryce Canyon National Parks
Miles from L.A.: ~500 
Suggested round trip time: 6-7 days min. 
The route to Southwest Utah will take you directly through Vegas, so you can hit up all the roadside attractions listed above before venturing into more scenic landscape on the second half of your journey. A few must-visits are Monument Valley Navajo Tribal Park (the backdrop to most Westerns since the 1930s), Glen Canyon National Recreation Area for some swimming amidst the desert landscape (if the season is right) and Vermilion Cliffs National Monument, home of incredible "wave" rock formations and painted desert vistas. You'll be greeted in Zion by soaring monoliths and sunset-colored cliffs; beyond in Bryce Canyon, the pinks turn to reds in a surreal, hoodoo-covered landscape (hoodoo means rock spire, and is way more fun to say).
Sourced from: Time Out LA